Research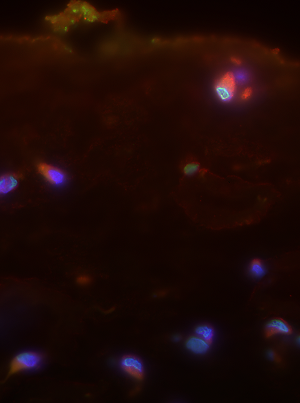 Blue nuclei are normal chondrocytes, and the
green nucleus is one staining for apoptosis
As a molecular biochemistry major at Yale, basic science research has been a part of Dr. Greisberg's career for 30 years. Perhaps his longest running project has been in chondrocyte apoptosis. Chondrocytes are the individual cells of cartilage. These cells are particularly difficult to work with; once damaged by trauma, they are not replaced by the body. This is why arthritis is such an common development after major orthopaedic trauma.
Dr. Greisberg identified apoptosis, sometimes referred to as programmed cell death, in chondrocytes following articular fractures. His research currently is working to identify ways to stop chondrocyte apoptosis following trauma. This research will change the lives of injured people in the near future.
Clinical research is a way to bring basic science work to a macroscopic level. There are several interesting clinical research projects underway currently. One is assessing outcomes of a common flat foot reconstruction surgery, and another is working to set standards for when an athlete can safely return to sport following an ankle injury.
Grants
A RAT MODEL FOR PRESERVING CHONDROCYTE VIABILITY AFTER CLOSED INTRA-ARTICULAR FRACTURE (Private)
Jan 1 2018 - Dec 31 2018
A NEW DEVICE FOR FIXATION OF METATARSAL OSTEOTOMIES (Private)
Feb 1 2013 - Jan 31 2014
CHONDROCYTE APOPTOSIS FOLLOWING BLUNT TRAUMA (Private)
Jan 1 2008 - Dec 31 2011
BIOMIMETIC--BMTI2006 (P & S Industry Clinical Trial)
Mar 27 2008 - Jun 30 2010
For a complete list of publications, please visit PubMed.gov